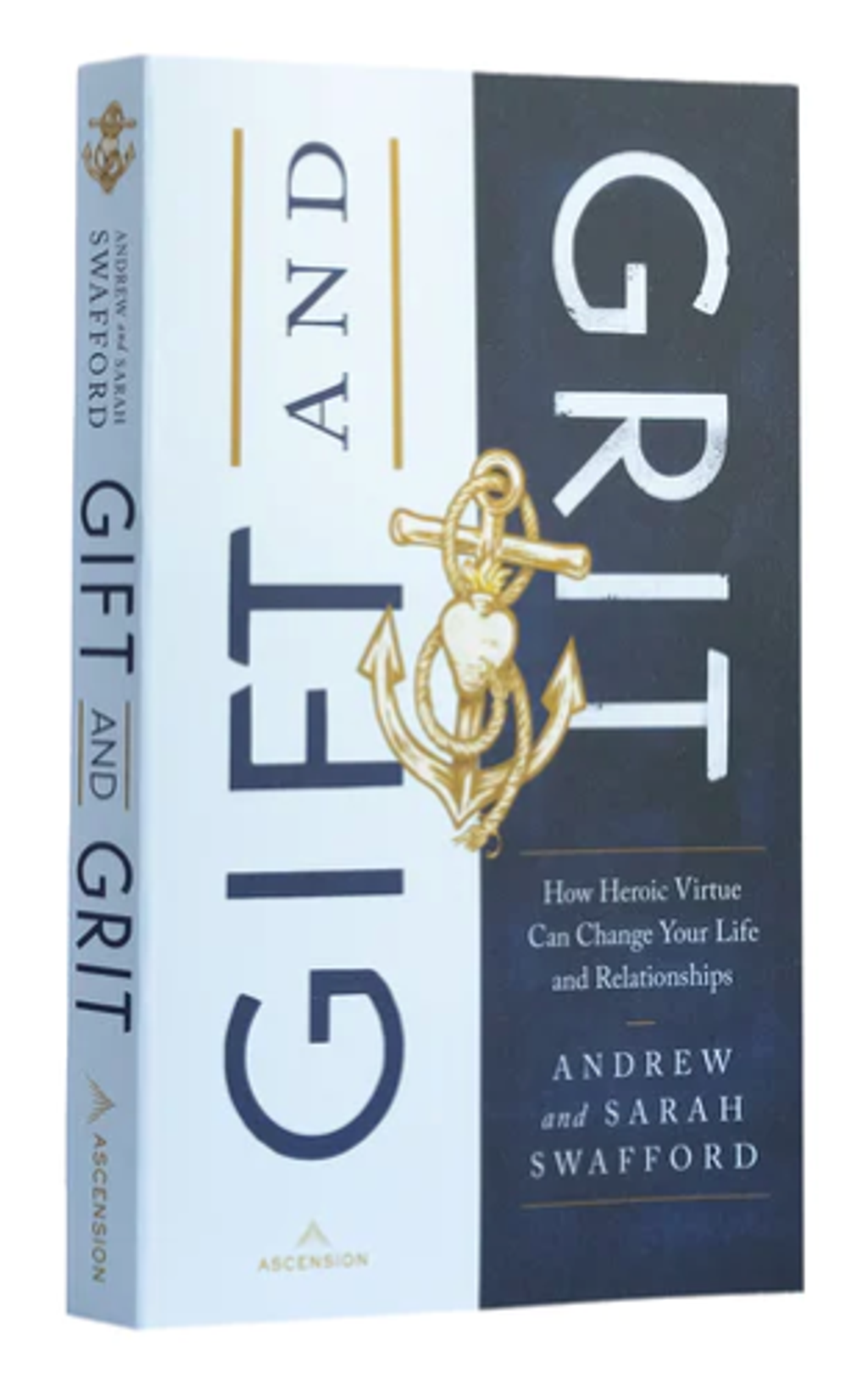 Gift and Grit: How Heroic Virtue Can Change Your Life and Relationships (Preorder)
This is a preorder item. Kindly check delivery dates with us before ordering.
Develop meaningful, joy-filled relationships through a life of virtue.

Attentive to the challenges faced by young people today—online dating, social media, and more—Gift and Grit: How Heroic Virtue Can Change Your Life and Relationships presents the insights that Andrew and Sarah Swafford (the author of Emotional Virtue: A Guide to Drama-Free Relationships) have learned about fostering authentic relationships, answering life's deepest questions, and remaining committed to a relationship with God from more than fifteen years of ministry to college students.
Beginning with stories of how God has personally transformed their own hearts and using the interactions they have had with the young adults to whom they minister, the Swaffords approach those who desire a truly meaningful life with a message of faith, hope, transformation, and joy.
This valuable book presents real-life advice on:
Fostering good and faithful friendships, with both men and women
Pursuing fulfilling and holy romantic relationships
Navigating past wounds and how to move forward to find healing
Achieving the greatness that every person desires
Bridging the gap between today's world and the spiritual life
Living life to the fullest as God intended
To those facing universal human struggles with isolation, insecurity, and sadness, Gift and Grit inspires a deeper look at the healing, forgiveness, and transformation we desperately desire in our lives and in our relationships.
With discussion questions, Gift and Grit is perfect for small groups and book clubs to grow together in faith.
"Gift and Grit is an excellent and practical guide to receiving the happiness, meaning, and truth that most profoundly echo in every human heart. Andrew and Sarah gift the reader with refreshing, honest, vulnerable, and timeless wisdom that can be applied in your life today. You will read this book and ponder your own heart as you experience the fire of desire to live your life running toward the Lord, bringing as many people with you as you can."
– Sr. Miriam James Heidland, SOLT
"It's like I'm in the room with them. We are around the table, living life and talking about what matters. Anyone who has spent any time with the marvelous Andrew and Sarah will immediately recognize that this work is a continuation of the real-life conversations they have all the time with college students, young adults, or friends of all kinds. Their real-life voices come through the book brilliantly, clearly, with all the joy and life-is-messy down-to-earth faithfulness they are known for. Priceless!"
– Fr. Craig Vasek, Secretariat of Catechesis and Evangelization
Customer comments
| Author/Date | Rating | Comment |
| --- | --- | --- |